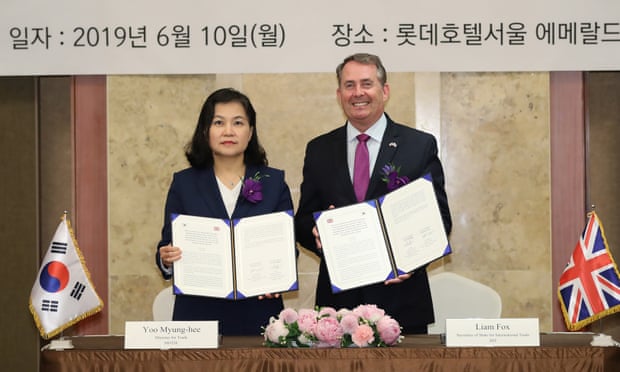 Agreement is Britain's first major trade deal in Asia since the vote to leave the EU
The UK has reached a preliminary trade deal with South Korea to avoid disruption if Britain leaves the EU without an agreement.
The two countries have agreed in principle a free trade agreement that will allow businesses to continue trading freely after Brexit, including in a no-deal scenario.
The development comes as ministers attempt to secure post-Brexit deals to retain trading rights on preferential terms with countries the UK already benefits from an agreement with under EU membership.
Liam Fox's international trade department has signed continuity deals with nations accounting for about 63% of trade covered by EU deals, including Switzerland, Chile and the Faroe Isles, up from 28% three months ago. However, critics warn that the deals may not cover as much trade as existing arrangements and are incomplete.