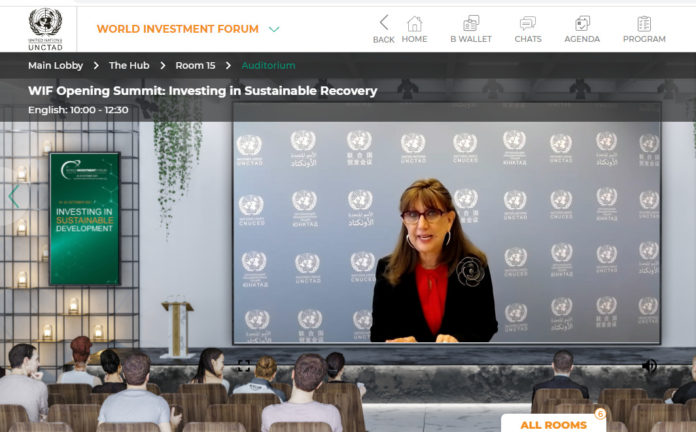 The 7th World Investment Forum Opening Summit took place this morning.
Past editions of the World Investment Forum brought together thousands of participants from 160 countries across the world, including Heads of State, global CEOs, heads of international organizations and civil society. The 7th World Investment Forum is scheduled to be held on 18-22 October 2021.
Among other distinguished speakers, Ms. Rebeca Grynspan, Secretary General Secretary-General, United Nations Conference on Trade and Development, welcomed participants via virtual platform.
Discover more events HERE.
UNCTAD's Global Investment Trends Monitor – a Special WIF Factsheet Edition
The Monitor provides the latest data on foreign direct investment (FDI), greenfield investment announcements, international project finance deals, and cross-border mergers and acquisitions (M&As), up to the third quarter of 2021. It also highlights the latest trends in investments relevant for the sustainable development goals (SDGs).
Global FDI flows in the first half of 2021 reached an estimated $852 billion, showing stronger than expected rebound momentum. The increase in the first two quarters recovered more than 70% of the Covid-19 pandemic induced loss in 2020.
Of the total 'recovery increase' in global FDI flows in the first half of 2021 of $373 billion, 75% was recorded in developed economies. High-income countries more than doubled quarterly FDI inflows from rock bottom 2020 levels, middle-income economies saw a 30% increase, and low-income economies a further 9% decline.
The global FDI outlook for the full year is improved from earlier projections. The current momentum and the growth of international project finance are likely to bring FDI flows back beyond pre-pandemic levels. The duration of the health crisis and the pace of vaccinations, especially in developing countries, as well as the speed of implementation of infrastructure investment stimulus, remain important factors of uncertainty. Other important risk factors, including labour and supply chain bottlenecks, energy prices and inflationary pressures will also affect final year results.
More information about the Forum can be found HERE.
Source: UNCTAD