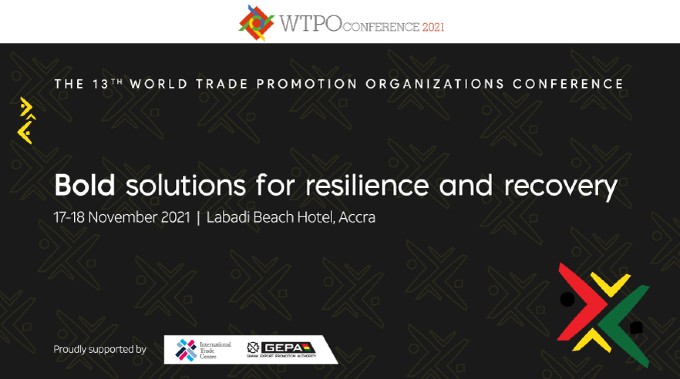 The 13th World Trade Promotion Organization Conference 2021 is set to take place on November 17-18, 2021 in Accra, Ghana
The World Trade Promotion Organization Conference 2021 will explore how bold organizations provide solutions to help build resilience and manage risk in times of uncertainty. With the United Nations Sustainable Development Goals as a guide, WTPO will outline and celebrate how trade and investment organizations address business survival and competitiveness, and support trade-led growth, while serving their communities and protecting our planet.
Registration opens in August. This will be an in-person event with live streaming.
Find out more about trade and investment promotion events HERE.
Resilient and agile organizations
Geo-political tensions, the climate crisis, threats to multilateralism and the digital revolution trigger uncertainty for business. Against this backdrop, COVID-19 brought human tragedy and unprecedented disruption. The resilient organization can take knocks without bruising. It has solid organizational values, governance structures; shared strategic goals and performance indicators; principle-based processes, high employee engagement, good knowledge management; and excellent stakeholder trust.
The agile organization is curious and open to ideas. It sparks innovation, relishes change and values the learning that comes with potential failure. It thrives on problem solving, with responsibility delegated to the front line to react to rapidly changing circumstances in the local context.
Preliminary Conference Programme | 17-18 November 2021
Keynote speeches
2021: Remapping the world
It is the human being that counts
Let's Talk – Interview session
Global business trends. Is there a new normal?
Peer-to-Peer Panel Discussion
Building boldly in Africa
Bold, resilient, and agile responses to risk
Build for the future: sustainable, inclusive solutions
Learning organizations and digitalization done well
Source /Image Credit: ITC