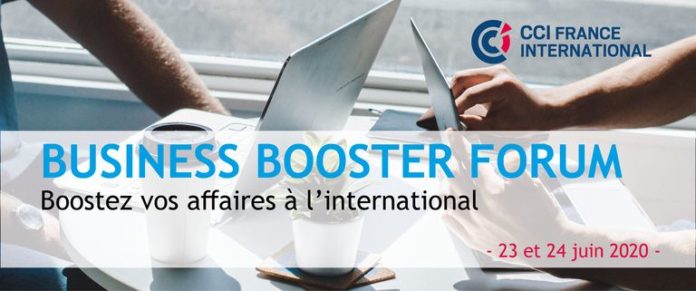 The CCI France International explores investment and trade opportunities worldwide via the Business Booster Forum
Members of French bilateral chambers of commerce are invited to prepare their companies for the post-Covid-19 era and consolidate the international presence during a "Business Booster Forum", a free and 100% online forum for exchanges and contacts. The webinar is taking place on June 23-24, 2020.
Created in 1907, CCI France International brings together and animates the 124 French Chambers of Commerce and Industry Abroad (FCCIA), present in 93 countries. French Chambers of Commerce and Industry Abroad support companies in their international development.
Read more about bilateral chambers of commerce HERE.
On the agenda: meet international experts
more than 50 webinars with testimonials from internationally successful companies and entrepreneurs
BtoB appointment programmes with CCI FI experts and more than 100 experts who will be ready to make each of your projects a success.
Why participate? 

To understand the evolution of your targeted markets
Identify new trade and investment opportunities
Exchange with the main French business players abroad
Adapt your positioning in the post-Covid-19 context
THE NETWORK OF FRENCH BILATERAL CHAMBERS OF COMMERCE
They offer a wide range of services, adapted to each step of the company's project. The network animates the French business community abroad thanks to more than 4,300 events each year: conferences, seminars, workshops, trainings, exhibitions, committees …
The 124 FCCIAs are managed by more than 1,100 permanent employees, mostly bicultural. Nearly 35,000 companies are members of the international network, making it the leading network of companies in France.
Source/ Image Credit: CCI FRANCE INTERNATIONAL