Dubai Chamber of Commerce launched the Rapid Response Initiative (RRI)
The Rapid Response Initiative (RRI) platform, a B2B health eMarketplace is launched by the Dubai Chamber of Commerce to help business owners, healthcare procurement professionals and other buyers of the PPE, find reliable suppliers, as well as enable non-traditional vendors to join the market with smaller quantities. The focus of the RRI is to help businesses generate new leads, create new business opportunities, drive growth and build long-term partnerships. The RRI helps buyers source high quality PPE products from the leading suppliers in the UAE as each seller is carefully chosen to ensure that certified products and accurate contact details are provided.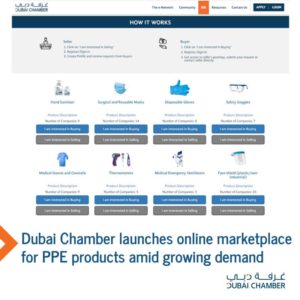 Does your company require PPE as the UAE returns to work?
The outbreak of COVID-19 pandemic has disrupted Personal Protection Equipment (PPE) products supply chain around the globe causing major supply shortages. The ongoing demand for high quality PPE products forces businesses to find alternative ways to diversify PPE products suppliers as they are turning away from traditional sources like sales representatives, to online platforms.
The RRI is an unconventional marketplace and free to use for qualified buyers and suppliers. Learn more about digital tools HERE.
GLOBAL TRUSTED E-NETWORK
Get Labeled as a Trusted Business and boost your company's credibility and exposure as a trusted trading partner and service provider.
Source/Image Credit: Dubai Chamber of Commerce