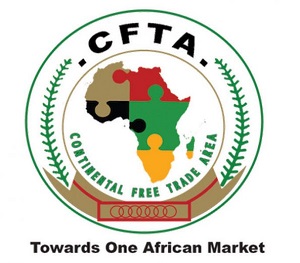 February 4, 2019 (Ezega.com) – Reports from the Prime Minister's office indicate Ethiopia is set to implement the African Continental Free Trade Area (AfCFTA) agreement after it was approved by the cabinet on Saturday.
The Premier's office said the decision was consistent with Abiy's vision of achieving regional integration where minds are open to ideas and markets are open to trade. The country's track record of pushing for Pan African causes will help achieve integration in the continent.
Background:
The AfCFTA is outlined in the agreement endorsed by 49 of the 55 AU countries. If the agreement is completely implemented, the free-trade area will be the largest globally in terms of the countries involved since the World Trade Organization was formed.
The pact was brokered by the AU (African Union) and was ratified by 44 out of the 55 member states in Kigali, Rwanda on the 21st of March, 2018.
Objectives of the AfCFTA:
– Establish a single continental market for goods and services, involving the free movement of businessmen and investment; thus making way for the speedy establishment of the African Customs Union and the Continental Customs Union.
– Expand trade within the continent via improved co-ordination and synchronization of trade facilitation and liberalization instruments and regimes across the continent.
– Resolve the challenges of corresponding and repeated memberships and accelerate the regional and global integration process.
– Enhance industry and enterprise competitiveness by exploiting the existing opportunities for scaling up production, global market access and improved reallocation of resources.
Despite the cabinet's approval, the parliament will have to vote on it before Ethiopia can deposit its instruments of ratification with the African Union's chairperson.
22 of the signatory states must ratify the pact before it becomes operational, and Ethiopia's impending ratification becomes the eighteenth meaning only four are required for it to be implemented.
In recent months, the AU has challenged North African countries to ratify the AfCFTA noting that all the ratifications so far came from sub-Saharan Africa.
Ebba Kalondo, the Spokeswoman in the office of the AU chairperson via a tweet expressed her sanguinity following a North African state (Ethiopia) being among the historic 22 that will enable the AfCFTA to come into force.
"We look forward to having a North African country among the historic 22 ratifications that will effectively bring the AfCFTA into force," read the tweet.
Some of the earliest countries to ratify the agreement include; Kenya, Rwanda, Niger, Swaziland, Chad and Ghana in a bid to establish the world's largest trade zone.
None of the North African countries had ratified the trade agreement, making Ethiopia the first in the region hence the optimism behind the decision.
Central African countries like Congo and Chad ratified the trade agreement, while West Africa has the most ratifications so far with Ghana, Mali, Ivory Coast, Mauritania, Senegal, Sierra Leone and Togo embracing the agreement.
Once implemented, the AfCFTA will eliminate tariffs imposed on 90% of goods, allow autonomous movement of commodity, goods, and services. According to the United Nation's Economic Commission for Africa, the pact will promote intra-Africa trade by 52% by 2022
Source/Image credit: https://www.ezega.com/News/NewsDetails/6933/Ethiopia-Ratifies-the-African-Continental-Free-Trade-Area