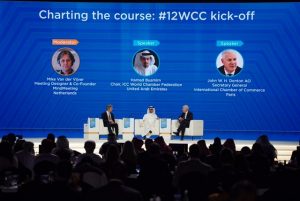 The 12th World Chambers Congress begins today in Dubai, and virtually, bringing together more than 1,000 chamber and business leaders from 110 countries.
Under the theme, "Generation Next: Chambers 4.0", the international chamber and business communities convene today to address today's most pressing global issues.
By providing an open forum for discussion and promoting change through cooperation, the Congress will be a catalyst for socio-economic progress, helping chambers and their respective communities across the globe reach new heights as a pillar of support, inspiration and leadership.
Co-organised by the International Chamber of Commerce (ICC), its World Chambers Federation (WCF) and Dubai Chamber of Commerce, the biennial event will provide delegates with the knowledge and skills necessary to turn digital disruption into opportunity for people and planet. Upon conclusion of this 12th edition, each delegate will have created a tailor-made action plan to develop new value for chambers, businesses and communities.
Commenting on the launch of the #12WCC, ICC Secretary General John W.H. Denton AO said: "There is a palpable sense of wanting to seize the moment here at the #12WCC and forge a new future for chambers at such a pivotal point in time…"
In an opening address to Congress delegates, ICC First Vice-Chair Maria Fernanda Garza said: "If the COVID-19 pandemic has taught us anything it's that the world's most pressing issues demand more than discussion. They require collaboration, strategic thinking and concrete action. As leaders, we must be prepared to innovate in the face of new and existing challenges and take bold action, together."
Over the next three days, the #12WCC will feature 44 sessions with more than 80 speakers. From what delegates can do to shape Chambers 4.0 and how to survive and thrive in uncertain times, to how to innovate to deliver solutions for a brighter future for all, this year's Congress is working to challenge what has been previously done and encourage delegates to imagine new possibilities to be more sustainable, digitally enabled and resilient.
Source/ Image Credit: ICC