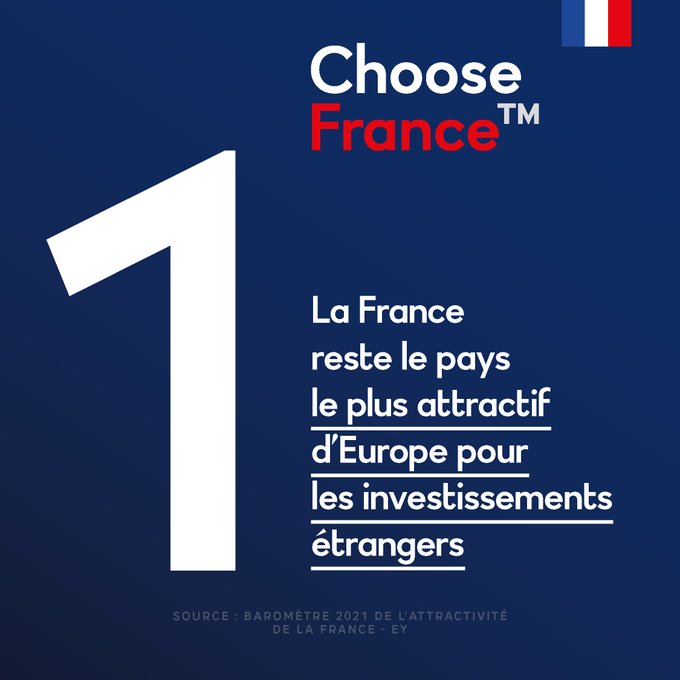 France is the most popular European destination for foreign investors for the second year in a row.
The audit and consulting firm Ernst & Young has published the 2021 Attractiveness Barometer, confirming France's position as the top European country for foreign investment projects in 2020.
Foreign investment in Europe declined 13% in 2020 as COVID-19 interrupted investment plans and triggered uncertainty.
Investment is set to rebound this year as investors reignite projects paused in 2020: 40% aim to establish or expand operations in Europe in the next year, up from just 27% in early 2020.
Businesses from around the world announced 5,578 Foreign Direct Investment (FDI) projects in Europe in 2020, a 13% decline from 2019.
This is the first time that foreign investment posted a double-digit year-on-year percentage decrease since 2009, when the global financial crisis triggered an 11% fall. Last year's drop needs no explanation. The onset of the COVID-19 pandemic at the beginning of the year stopped investment plans in their tracks and created immense economic uncertainty.
Last year there were 985 foreign investment projects in France, 975 in the UK and 930 in Germany, according to EY.
Due to Germany's relative success in containing COVID-19 during 2020, its investment fell less precipitously than in France and the UK, leaving the three countries virtually tied as Europe's top investment destinations. France attracted 985 projects, the UK 975 and Germany 930.
Looking by sector, life sciences was the only major industry that experienced an increase in foreign investment, as businesses rapidly moved to meet the surging demand for COVID-19 vaccines, treatments and personal protective equipment. More news HERE.
Why was investment so resilient? Despite the unprecedented circumstances, foreign businesses still see Europe as fundamentally one of the most attractive regions around the world to invest for the long-term: a relatively stable political and regulatory regime, a highly skilled workforce and comparatively robust transport, energy and telecoms infrastructure.
Software and IT services remains by some distance the largest sector attracting foreign investment in Europe (1,046 projects in 2020), but it decreased by 14% on 2019. Investment in this sector was down significantly in the UK (-30%) and France (-29%) but increased in Germany (+13%).
Image Credit: Business France