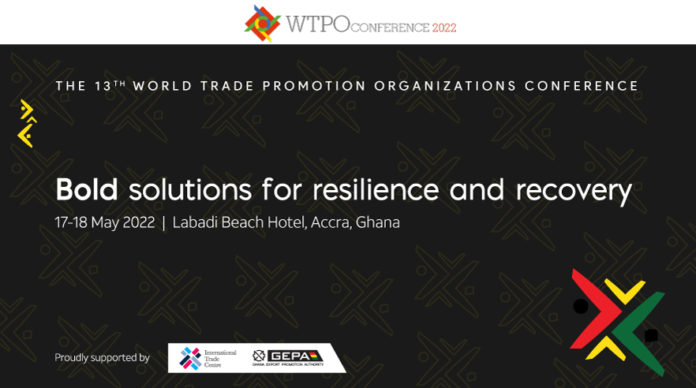 The 13th World Trade Promotion Organizations Conference and Awards will take place on 17-18 May, 2022 at the Labadi Beach Hotel in Accra, Ghana.
Trade and investment promotion organizations around the world will meet in Accra, Ghana, on 17-18 May 2022. The World Trade Promotion Organizations Conference (WTPO) will be jointly hosted by the Ghana Export Promotion Authority (GEPA) and the International Trade Centre (ITC), the joint agency of the United Nations and the World Trade Organization.
Conference Theme
The World Trade Promotion Organization Conference 2022 will explore how bold organizations provide solutions to help build resilience and manage risk in times of uncertainty. With the United Nations Sustainable Development Goals as a guide, the event will outline and celebrate how trade and investment organizations address business survival and competitiveness, and support trade-led growth, while serving their communities and protecting our planet.
Preliminary Conference Programme
Keynote speeches
2022: Remapping the world
It is the human being that counts
Let's Talk – Interview session
Global business trends. Is there a new normal?
Peer-to-Peer Panel Discussion
Building boldly in Africa
Bold, resilient, and agile responses to risk
Build for the future: sustainable, inclusive solutions
Learning organizations and digitalization done well.
Discussions will focus on solutions for small firms to build resilience against disruptions caused by crises such as climate change and pandemics. Participants will also explore new opportunities arising from digitalization and the African Continental Free Trade Area.
Created in 1996, the conference takes place every two years.
About ITC
The International Trade Centre is the joint agency of the World Trade Organization and the United Nations. ITC assists micro, small and medium-sized enterprises to become more competitive in global markets, thus contributing to economic development as part of the Sustainable Development Goals. More about international organizations HERE.
About GEPA
The Ghana Export Promotion Authority is the national export trade support institution of the Ministry of Trade and Industry. It is responsible for facilitating, developing and promoting Ghanaian exports. The organization's focus is to diversify Ghana's export base from traditional gold and unprocessed minerals, cocoa beans, timber logs and lumber.
Source: ITC