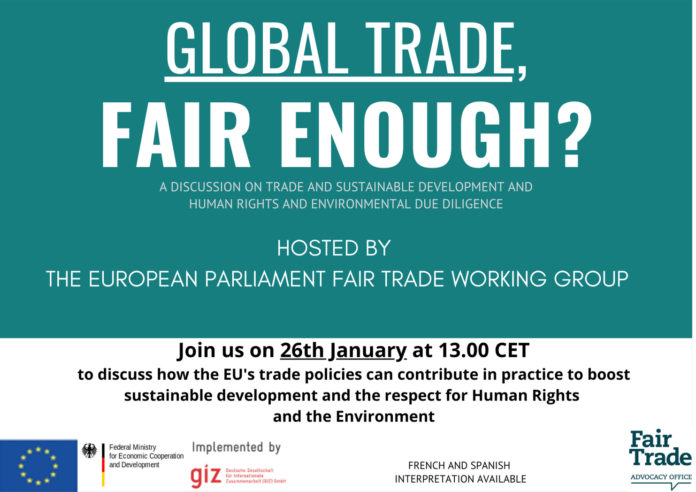 The online event GLOBAL TRADE, FAIR ENOUGH? hosted by the European Parliament Fair Trade Working Group will take place on 26TH January 2022, 13.00-15.00 CET.
The event will address the historic challenges faced by the European Union in developing new trade and corporate governance models that will lead to fair and sustainable global value chains and put people and Planet above profit. Two of the key components of this much needed approach to trade are Trade and Sustainable Development (TSD) policies, including the TSD chapters of trade agreements, and binding Human Rights and Environmental Due Diligence, as part of the Sustainable Corporate Governance initiative.
The event will consist of two panels:
Panel I: Human Rights and Environmental Due Diligence, will the legislation deliver?
Panel II: Trade and Sustainable Development, time to rightly implement.
In case you would like to see the agenda and to register, please follow this link.
Event will count with simultaneous interpretation to French and Spanish.
Fairtrade International
Fairtrade International is a global network which works to share the benefits of trade more equally – through standards, certification, producer support, programmes and advocacy. Fairtrade producer networks in Latin America and the Caribbean, Africa and the Middle East, and Asia Pacific regions, representing 1.7 million farmers and workers in 75 countries, co-own the international Fairtrade system. Fairtrade organizations in more than 30 countries support consumers, businesses and governments to increase commitments to sustainable production and consumption. Read more: www.fairtrade.net.
For more information about upcoming events, please click HERE.