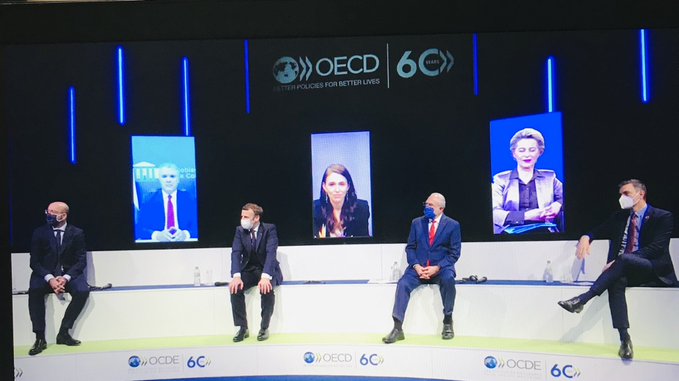 On December 14, 2020, OECD marked the 60th anniversary of the signing of the OECD Convention.
The OECD commemorated the 60th anniversary of the signature of the OECD Convention on 14 December 2020 with a virtual event with Heads of State and Government of Member countries, the EU and Costa Rica. Co-hosted by the President of the French Republic, Emmanuel Macron, the President of the Government of Spain, Pedro Sánchez, and the Secretary-General of the OECD, Angel Gurría, the event took stock of the state of affairs in the world economy, long-term trends, and of the specific contribution of the OECD to shape "better policies for better lives".
The OECD reached its 60th Anniversary in a unique and challenging context. As the world confronts the worst health, economic and social crisis since the 1930s, the OECD is once again rising to the challenge to support its Member countries and the global community in their response to the crisis and their efforts to foster a strong, resilient, inclusive and sustainable recovery. As an organisation whose roots lie in the Marshall Plan, the ideas of reconstruction, ambition and multilateralism are at the core of the OECD's identity. Through its standards, data, analysis and evidence-based recommendations, sixty years later, the OECD continues to deliver "better policies for better lives".
About the OECD
The Organisation for Economic Co-operation and Development (OECD) is an international organisation that works to build better policies for better lives. Our goal is to shape policies that foster prosperity, equality, opportunity and well-being for all. We draw on 60 years of experience and insights to better prepare the world of tomorrow.
More about international organizations HERE.
Together with governments, policy makers and citizens, we work on establishing evidence-based international standards and finding solutions to a range of social, economic and environmental challenges. From improving economic performance and creating jobs to fostering strong education and fighting international tax evasion, we provide a unique forum and knowledge hub for data and analysis, exchange of experiences, best-practice sharing, and advice on public policies and international standard-setting.
Source/Image Credit: OECD