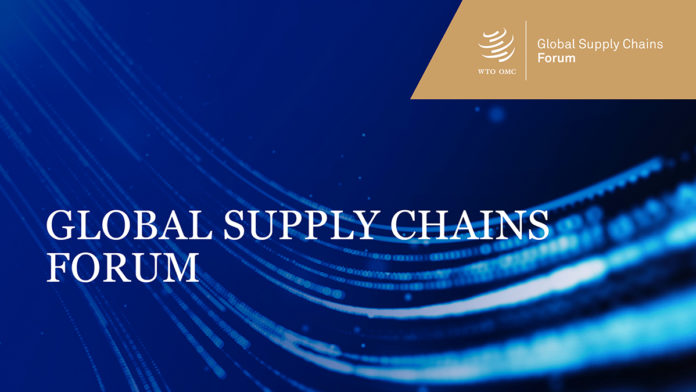 WTO to host Global Supply Chains Forum to explore ways of easing disruptions to trade
On the occasion of the Global Supply Chains Forum, the WTO will bring together on 21 March stakeholders from every part of global supply chains to share perspectives on the causes of continued supply chain disruptions and to work together on ways to mitigate their impact on global trade and post-pandemic economic recovery.
The forum will be opened by Director-General Ngozi Okonjo-Iweala and will be attended by WTO members and representatives from shipping, trading and logistics companies. It will be held virtually, with livestreaming available on the WTO website.
Since the onset of the COVID-19 pandemic, WTO economies are facing continued supply and demand pressures, congested ports, shipping logjams, rising inflation, increased freight rates and shortages that are disrupting global trade.
These supply chain disruptions jeopardize the flow of goods across the world and weigh negatively on the post-pandemic economic recovery. Participants will explore the role the WTO can play in strengthening global supply chains and how partners across regions and sectors can collaborate to make supply chains more sustainable and inclusive.
The forum is part of the WTO's efforts to analyse the evolving situation in global supply chains. More about upcoming events HERE.
Guiding questions:
How long will the bottlenecks, shortages and delays afflicting global supply chains persist? Which challenges are due to transitory imbalances and which are structural? What are the implications for inflation and economic stability?
What do importers, exporters, trading companies and logistics providers need from governments and international organizations, and from each other? Where do opportunities lie for resource sharing and cross-sector collaboration? Are regulatory frameworks fit for purpose?
Which countries, sectors and groups are suffering most from congestion, shortages and cost increases, and why does this threaten their longer-term participation in global trade?
To what extent can trade-facilitation measures reduce friction in supply chains? Where would they be most impactful? Are there emerging technologies that can help make our supply chains more resilient and flexible without sacrificing efficiency?
What role can the WTO play in helping move participants' proposals forward?
More information on the forum — including on how to register — is available here.
Source/ Image Credit: WTO