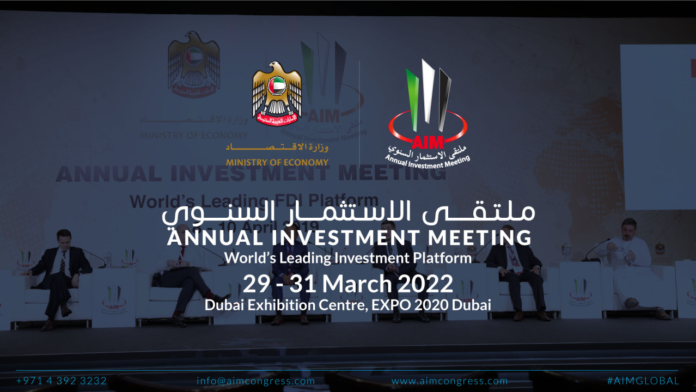 Annual Investment Meeting, which is taking place from 29 – 31 March 2022 in Dubai, brings together visitors from both the public and private sectors, with participation from all continents across the world.
Initiated by the United Arab Emirates' Ministry of Economy , the Annual Investment Meeting (AIM) is held under the patronage of His Highness Sheikh Mohammed bin Rashid Al Maktoum, Vice-President and Prime Minister of the United Arab Emirates, Ruler of Dubai .
Since day one, AIM has constantly been viewed by all as the Middle East's top investment platform, which aims to create a regional and global economic transformation by providing investment opportunities, upholding solidarity, and developing strong economic relations among countries, investors, startups, small & medium enterprises SMEs, and all other stakeholders in the global investment arena.
Stay updated about investment and trade promotion events!
What Are the AIM Features that Provide Value to Participants?
The numerous features that AIM offers are golden opportunities for each of the categories of the forum's participants to network, share experiences, present, or watch other parties' presentations, network, network, and network! Even before the event starts and until it ends, the features are there every day to give value.
AIM Pre-conference Workshops
AIM Conference
AIM Exhibition
Investment Destinations
Workshops
Foreign Direct Investment Workshops
Foreign Portfolio Investment Workshops
Future Cities Workshops
Startup Workshops
Small & Medium Enterprises Workshops
50 Projects Initiative
The Agenda of the event can be found HERE.
Source/ Image Credit: aimcongress