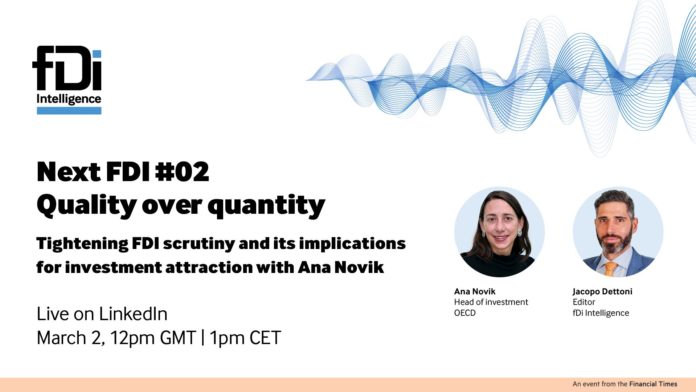 Next FDI #02 – Quality over quantity
Next FDI, a series of live interviews by fDi Intelligence, are taking place live on LinkedIn since February 22, 2022. The next interview with Ana Novik, the Head of the Investment Divison at the OECD, will be held on March 02nd, 2022 at 1 pm.
Foreign direct investment (FDI) has been subject to increasing screening in the past 10 years, and the pandemic has only intensified the level of FDI scrutiny by governments in developed, as well as developing countries. According to the OECD, half of global FDI is now potentially subject to cross-sectorial screening as policy-makers leverage concepts like national security and tech sovereignty to widen the scope of these regulations.
Growing FDI screening may prompt investment agencies and investors themselves to focus on quality over quantity to fine-tune their strategies on high impact investment capable of staying clear of screening regulations. Ana Novik has led the OECD's monitoring of FDI screening mechanisms and its FDI Qualities initiative and will discuss the implications of these recent developments on investment attraction and implementation.
On February 22, 2022, the President of Benchmark Strategies, Patrick Bench, gave an interview to Jacopo Dettoni, Editor of fDi Intelligence, and you can check it out on LinkedIn.
Find out more about investment and trade promotion events HERE.