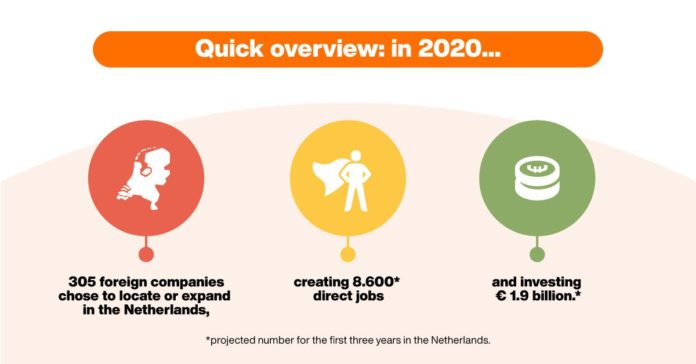 Coronavirus and Brexit impact the arrival of foreign companies to the Netherlands in 2020
In 2020, the Netherlands managed to attract significantly fewer foreign companies than in previous years. This is evident from the annual results of Invest in Holland and the Netherlands Foreign Investment Agency (NFIA) over 2020. Last year, 305 foreign companies, including Beyond Meat, Chargebee and Sekisui Polymatech, chose to set up shop in the Netherlands. These companies expect to create more than 8,600 direct jobs in the first three years and invest 1.9 billion euros in their projects. Although there is a constant flow of new companies as a result of Brexit, the coronavirus is causing the Netherlands to attract fewer foreign companies.
Foreign companies provide an important contribution to the Dutch Economy
Jeroen Nijland, NFIA Commissioner and Chairman of the Invest in Holland network: "2020 was a year with two stories. The Netherlands is well-positioned for international companies looking for a stable base to serve the European market; for example, companies relocating operations due to Brexit. At the same time, the number of wider inward investments did see a decrease. This effect can largely be explained by the global coronavirus crisis. If we want to invest ourselves out of the crisis, we need to sustain our business climate; especially to encourage sustainable enterprise and innovation in the Netherlands, that enables us to grow."
Where did companies come from?
In 2020 the Netherlands saw the number of foreign business investments decrease by about a quarter compared to 2019, while the number of created jobs fell by about 40 percent. An even stronger decline in investments is being tempered thanks to strong Dutch sectors such as Life Sciences & Health, IT and Agrifood. About one third of the foreign companies that choose the Netherlands come from Asia, one third from North and South America and one third from other parts of the world (Europe, Middle East, Africa and Oceania).
Source/Image Credit: Invest in Holland