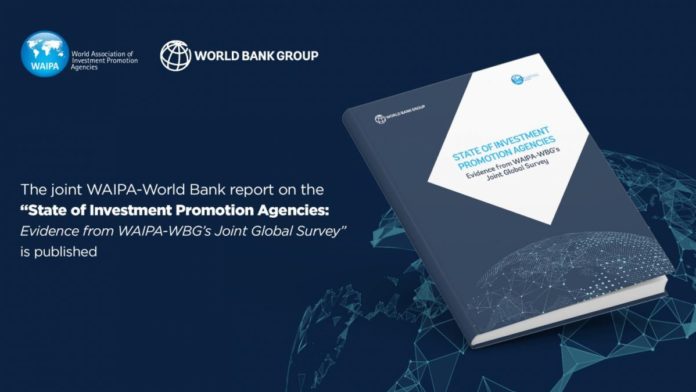 The World Bank Group (WBG) and the World Association of Investment Promotion Agencies (WAIPA) have conducted a comprehensive global survey to capture IPAs main institutional characteristics, corporate planning and services, as well as the main changes and challenges that IPAs are experiencing.
Ninety-one national IPAs from various regions and income groups participated in the survey, where most of the respondents come from high-income countries in Europe and Central Asia. Read more reports HERE.
The survey is structured around the novel WBG framework for investment promotion, which includes the following core pillars:
Corporate planning and sector prioritization: Improving strategic focus via corporate and strategic plan development and improving sector prioritization for investment promotion.
Institutional framework for FDI: Strengthening the IPA's institutional framework by improving governance, resources, tools, capacities, and institutional coordination among key stakeholders.
Investor services: Improving investor-focused services on the basis of the comprehensive investor services framework (CISF), to cover every stage of the investment life cycle (i.e. attraction, entry and establishment, retention and expansion, and linkages and spillovers).
Institutional Framework
It is very important for IPAs to maintain institutional and financial autonomy, as well as degree of flexibility to adjust its internal structure and resources. Agencies with a more business-like structure and clear mandate of investment promotion tend to be more successful in attracting and retaining investments. The survey indicates that IPAs have different organizational structures, reporting lines, and mandates.
The study, conducted before the start of the pandemic, also reveals that other main challenges that IPAs face are related to budgetary issues and financial limitations, the capacity of their staff, and bureaucratic and procedural issues. What's more, the most common changes anticipated by IPAs in the near future, are the impact of digitalization and technology disruptions, changes in the markets, new investment promotion methods, policy and regulatory changes, and global and trade uncertainty.
Despite their heterogeneous characteristics across countries, IPAs are now uniquely positioned to revise their FDI strategies and value propositions toward resilient segments while mitigating their countries' risk exposure of FDI, as well as their institutional frameworks and service offerings. IPAs which are too focused on events and do not adapt may suffer in a scenario of less government spending and support.
Source/Image Credit: WAIPA