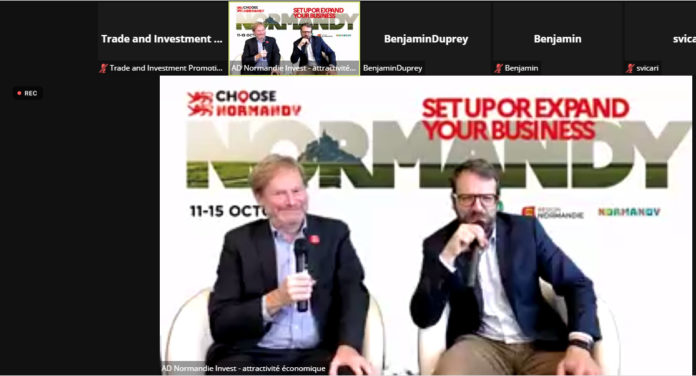 A week of Webinars organised by AD Normandie and Normandie Attractivité from 11th October to 15th October 2021: Choose Normandie
The first webinar took place on Monday, October 11, 2021 and was moderated by Mr. Guillaume Tirard, Inward Investment Director.
Normandy is well-known for its geographical location between London and Paris and offers a good quality of life/ work-life balance to its residents. It is the second French industrial region (21% of GDP) and the 2nd most internationally open region in France, with 780 foreign companies (Fortune 500).
Program
Presentation of the different topics of the week :
From Farm to Fork – continued innovation in Normandy
Normandy excellence at the service of equine health and research
Normandy: the future of Hydrogen
Scaling up in Normandy
From fundamental research to drug logistics
Opportunities of health system in Normandy
Post Brexit : Building Ties ! All the practical contacts for your Business growth on the French market with Normandy
Energy transition and industrial excellence in Normandy
Masterclass – Quality of life and entrepreneurship in Normandy – Live at Château Du Breuil – Calvados – Normandie
THE MOST PROMISING SECTORS
Widely renowned for the quality of its agriculture, livestock and maritime resources, Normandy has an outstanding processing industry, which has benefited from two major assets: Europe's vast consumer purchasing power and front-line port facilities for importing raw materials and exporting finished products. The port facilities of Le Havre, Rouen, Caen and Cherbourg have contributed to the growth of the food processing industry in Normandy.  Discover more about Normandy's business sectors HERE.
AD Normandie
AD Normandie is the representative of Business France in Normandy. AD Normandie works in close collaboration with local economic development agencies, the newly defined structures at the level of counties , Chambers of Commerce, Industrial clusters and local government representatives.
To provide premium and personalized support to both local companies and foreign structures having investment projects in the region, the economic development agency AD Normandie provides several services to promote innovation and development for all economic actors. Foreign investors are a priority for the region, which deploys services designed to help and guide them at every step of their development. In 2020, a specific effort is being made in the agribusiness and hydrogen sectors towards Nordic investors.