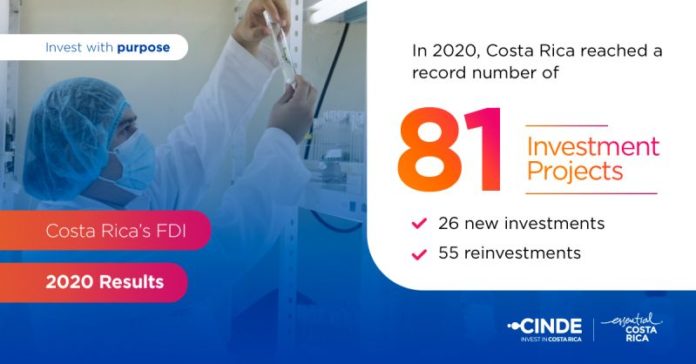 The Costa Rican Investment Promotion Agency- reported a record of 81 confirmed projects during 2020, 26 of which are new companies that selected Costa Rica for their Operations.
Other 55 investment projects diversified current operations in the country with new processes or business lines as well as expansions.
Of the 26 new entries, 14 of them came from non-traditional origins representing 11 different countries such as Japan, Denmark, France, Germany, India, UK, and Bosnia and Herzegovina. Among these is German-based ADMEDES, one of the world's leading contract manufacturers of auto-expandable nitinol (nickel and titanium) components used in the medical devices industries. The company selected Cartago, Costa Rica as their third geographic operation, which will add to its two centers in Germany and another in the USA.
Intel is another example with an investment of US$350 million in Costa Rica to revamp testing and assembly operations, which adds to its other three divisions in the country, including its Mega Lab, The Research and Development (R&D) Center, and its Global Services Center, all adding 2,000 people.
Eric Scharf, Chairman of the Board of Directors at CINDE, highlighted that these results, amid the pandemic, are a clear signal of Costa Rica's response and resilience and an excellent coordinated effort between the government, companies, and their employees to ensure business continuity. More about trade and investment promotion organizations HERE.
"Within days, 98% of services companies in the country with over 70.000 people were 100% working from home. Manufacturing companies identified all critical on-site jobs which continued to operate under the strictest sanitary protocols, prioritizing the wellbeing of the people. Assurance of this business continuity with a clear rule of law and openness to trade demonstrated multinationals' trust in Costa Rica as their strategic partner for the new nearshoring," added Mr. Scharf.
"Over the years, Costa Rica has been the nearshoring site per excellence."
Jorge Sequeira, CINDE's Managing Director said: "This year, the pandemic reaffirmed Costa Rica's position. We had several expansion projects in manufacturing, driven by a supply optimization strategy. The results we had in 2020 reflect a high level of trust by multinationals in our country, where we were able to demonstrate strong response, resilience, and reinvention of businesses but more so, demonstrate our people's capacity."
Source/Image Credit: CINDE