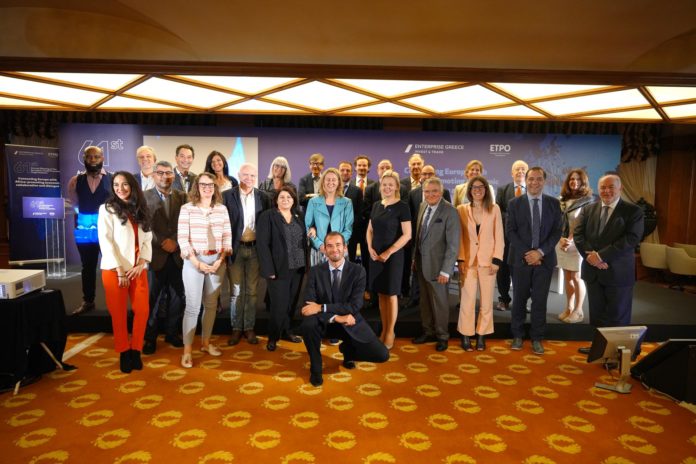 Enterprise Greece, the official agency of the Greek State that promotes exports and attracts foreign direct investment, hosted the 61st Conference of the European Trade Promotion Organisations (ETPO)
The hybrid conference was attended by top executives and senior staff of European Trade Promotion Organisations, representatives of the European Commission's Directorates-General, international organisations such as the United Nations (UN) and Organization for Economic Cooperation and Development (OECD), as well as senior executives from European and African energy and IT enterprises.
The Conference entitled "Connecting Europe with Africa: promoting economic cooperation and dialogue", took place in Athens, from October 21-22, 2021.
Mr George Filiopoulos, CEO of Enterprise Greece, stressed in his opening remarks, the important role that European Trade Promotion Organisations are required to play, following the international crisis caused by the pandemic. As Mr. Filiopoulos stated: "Greece is more than ever, ready to undertake an active role in the extroversion of Greek enterprises in Africa. The fact that a Greek Embassy in Senegal was recently established under the New Extroversion Plan of Greece, gives Greek entrepreneurs the impetus to launch new business missions in North and Sub-Saharan Africa."
In the aftermath of the global economic crisis caused by the pandemic, trade will be a key driver for economic growth. Africa, with its rapidly growing economic opportunities, is considered of high potential for many European enterprises. The European Trade Promotion Organisations should take the lead and actively support the outreach efforts of the European export enterprises and initiate mutually beneficial relationships between the two business communities.
Enterprise Greece
Enterprise Greece is the official investment and trade promotion agency of the Greek State, operating under the auspices of the Ministry of Foreign Affairs. The Agency provides foreign investors with a one-stop shop for information, consulting, and assistance through every phase of their investment project, and promotes Greek products and services in international markets. More about national trade and investment promotion organizations HERE.
Source/ Image Credit: Enterprise Greece