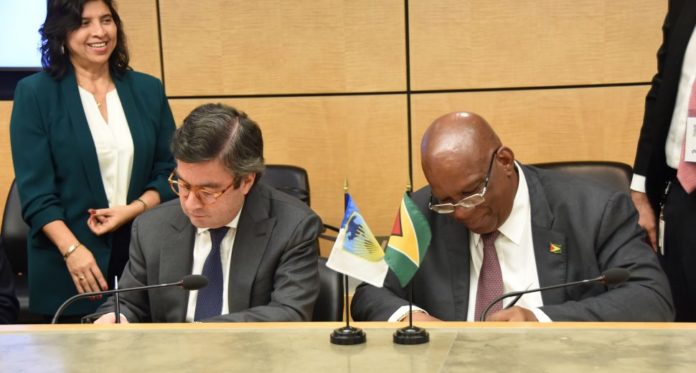 Minister of Finance, Winston Jordan (right) yesterday signed a loan with the Inter-American Development Bank (IDB) in Washington, USA for US$6m ($1.2b)  for the establishment of an Electronic Single Window for Trade.
A release from the Ministry of Finance said that this project will not only improve trade facilitation but significantly reduce the time and costs of trade processes. The executing Agency is the Ministry of Business.
Luis Alberto Moreno, President of the IDB, signed on behalf of the Bank.
In May last year, the Ministry of Business said it was placing significant emphasis on the design and implementation of an Electronic Single Window (ESW) platform for trade transactions in Guyana. This project, upon completion, will revolutionize Guyana's trade transactions by enabling a trader to make a single online submission and have all the necessary "paperwork" automated within minutes, for final retrieval and/or clearing at the wharf, the ministry said.
Source/Image Credit: https://www.stabroeknews.com/2019/photos/02/12/single-window-loan-from-idb/