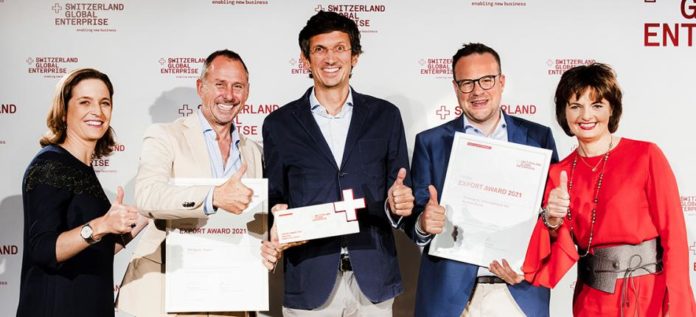 Zurich-based startup Nispera was awarded the Export Award by Switzerland Global Enterprise (S-GE).
The SME develops smart data solutions for monitoring facilities that generate renewable energy. Its software-as-a-service platform is meanwhile in use in more than 150 wind turbines, 250 photovoltaic facilities and 20 hydropower plants in over 25 countries. It convinced the jury with its rapid scalability in the competitive energy market. The prize was presented by Ruth Metzler-Arnold, Chairwoman of the Supervisory Board at S-GE, at a festive award ceremony.
Award presentation by Ruth Metzler-Arnold
S-GE was once again able to personally welcome the finalists to the award ceremony this year at the Zurich Convention Center. The celebration took place physically on a small scale and was also broadcast digitally. The trophy was presented by Ruth Metzler-Arnold, Chairwoman of S-GE's Supervisory Board. "I would like to congratulate Nispera on this success. This startup stands out in particular for its ability to empathize with its customers and incorporate their rapidly changing needs into its own work." Nispera is now allowed to use the label "Export Award". In addition to the trophy, the winner will receive a voucher for export business support from S-GE, which can be used, for example, to assist with a new market entry, as well as a free Gold membership with S-GE.
More about national trade and investment promotion organizations HERE.
About the Export Award
Every year, the Switzerland Global Enterprise Export Award is presented to a company that has successfully established itself abroad. The candidates and winners of the last few years show in an exemplary manner how Swiss SMEs have successfully overcome numerous obstacles to operate on the international stage with innovation, agility and cleverness. Hidden champions with huge potential for internationalization have repeatedly been discovered among the applicants.
Source/ Image Credit: S-GE